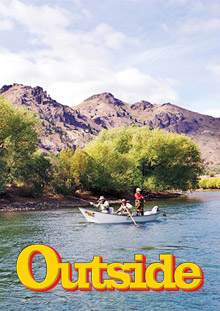 Fly-Fish Argentina
OUTSIDE MAGAZINE
by Abe Streep
You could pay an American outfitter five grand to helicopter you to a remote river in Patagonia, point out a fat wild brown trout, and hold your hand while you cast. Or you could throw a decent six-weight fly rod, boots, and some leaders (2x to 5x) in a pack, book a flight to Bariloche, Argentina (Delta and Continental fly through Buenos Aires), and do it yourself. The trout here are big—seven, eight, ten, twelve pounds—and the beauty of the place is the dizzying amount of options within a day's reach. For easy access, the big Rio Limay flows out of the eastern shore of 250-square-mile Lago Nahuel Huapi (day floats with Bariloche-based Outfitters Patagonia, US$370; outfitterspatagonia.com; bring Woolly Buggers with rubber legs). Want to cast dry flies to rising 16-to-24-inch fish in the vicinity of exactly no one? Book a three-day, 40-mile float on the pristine Rio Caleufu (US$1,050 with Outfitters Patagonia). If you'd rather wade-fish without a guide, drive two hours north to the Rio Malleo with a hatful of Parachute Adams and Pheasant-Tail Nymphs. Or drive two hours south of Bariloche and float remote Fonck Lake, where you'll catch as many 20-inch browns as you wish. (Just don't go the day after it rains—the road will resemble a milkshake.) If you don't have access to a boat, make for Espejo Chico Lake, walk around the shoreline, strip Woolly Buggers along the steep ledges, and wait for your rod to do a very big double take.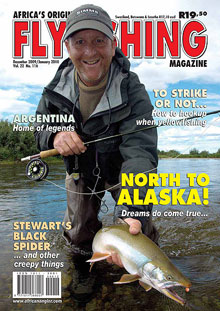 ARGENTINA - Home of legends
by Giordano Zamparini
FOR as long as I can remember I have had an interest in Argentina. Perhaps it is the close association that we Italians have with the country, or the sense of adventure associated with the legendary Gaucho and their lands — Patagonia, the Pampas and Tierra del Fuego.
More recently, of course, news of monstrous trout and unspoilt fishing locations had increased my curiosity. So when, unexpectedly, my wife and her sister suggested that the family spend Christmas touring South America, I agreed on one condition — that the rest of them, all ten of them, leave me to fish for three days on my own.
I decided that the best place to fish would be San Carlos de Bariloche. This small Swiss-style town, consisting of hundreds of chocolate shops and hotels, is situated on the banks of Lake Nahuel Huapi in the foothills of the Andes. As both the adventure capital of Argentina and a major trout fishing destination, Bariloche was the perfect place where the rest of the group would be entertained by the tour guide while I attempted to break all my personal trout catching records.I had no difficulty in sourcing information on the internet regarding guides, fishing equipment and what flies to take, but did have difficulty in getting the outfitters to answer my e-mails.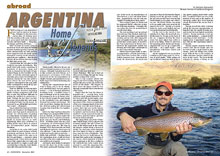 Perhaps the fact that I was fishing on my own or that they were mainly catering for Yanks was the reason. So I resorted to an old faithful travel reference source — Frommer's.
I must admit that I had never before tried to use Frommer's for fishing information, but I had used it extensively in Europe for information regarding accommodation, restaurants and sightseeing locations.
It proved to be very handy in South America as well. Surprisingly, there was a reference to fishing guides and I chose to contact the recommended guide, Martin Freedman.
Argentina is on a par with South Africa when it comes to prices of food, restaurants and hotels, but the cost of fishing with a guide is the same as in the USA and Europe — expensive when paying in rands. I have, however, always been of the opinion that it is easier and more productive to employ a guide and catch fish than to flog the water blindly, especially when pressed for time.
Martin kindly offered to kit me out with everything I needed, as I was short of space. I thought it prudent, however, to take at least one rod with me, so I purchased a seven-piece, 5-wt Orvis travel rod, on the recommendation of Charles Stewart, and matched it to my Hardy Angel reel with both floating and sinking lines.
Among the comprehensive list of what to bring, sent to me by Martin, was something that I was not going to borrow — a set of thermal underwear, including socks. I couldn't source a pair of thermal socks in South Africa, but managed to do so in Buenos Aires. In fact, I nearly bought five pairs thanks to the wonderful, sexy and skimpily dressed Venezuelan saleswoman. My wife stood there, shaking her head at the old fool ogling the saleswoman wearing what looked like two handkerchiefs.
More Articles