Be one of the few people in the world to catch a Dorado on a fly rod!
The Dorado, also called "Tigre de los rios", behaves like any other predatory fresh water fish. They hide in al kind of water conditions waiting for their prey to come while in the river. With fearful teeth and extremely powerful jaw a Golden Dorado can destroy its catch and boasts a muscular body.
Is characterized for brutally taking any artificial bait. It's recognized for jumping like a Tarpon without giving up. Around the area we cover, the Dorados size range is from 4 to 14 pounds and some bigger can be caught as well. We might also catch other species as Pacu, Chafalote, Tarariras and Piranha while Fly Fishing for Golden Dorado.
Dorado Typical Fishing Day. All begins when the guide pick you up with the boat right from the lodge marina and after a short navigation start chasing and casting for the first catch of the day. We will wade or float the Parana and Corrientes river all day long looking for the best spots and we will treat you with the best Argentinean Barbeques or home made meals on the banks of these wonderful rivers. When the fishing is done we will get back to the comfort of the lodge and a fine dinner to end your day.
We recommend combine a couple days of Dorado fishing with Trout fishing in Patagonia.
Location & Fishing Information. We will fish around Esquina and La Paz town area. All lodging options are family owned and operated. We also have private ranches that allow us private access to the rivers on the ranch. CorrientesProvince is located 250 miles north of Buenos Aires and can be reached by VIP Bus (our recommendation), private van, charter flight or commercial flight.
Fishing season runs almost all year around, except end of November through January in some specific areas and we operate from April to November according fishing condition and tropical weather.
Fishing is done with 6wt to 8wt rods making easier to cast large flies or for turning a big fish out of a weed-bank. Dorado are famous for their explosive strikes and runs. Usually fished with a WF floating and sinking line and very large streamers, also take surface flies as bombers and poppers.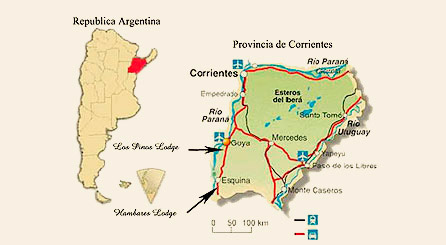 Scenery & Wildlife. Whether you are an expert fisherman in pursuit of a big catch or a non-angler looking to relax, it is also a great place to enjoy this seldom-visited area called Mesopotamia. We will be surrounded by herons, kingfishers, chajas, parrots, ducks and pigeons flying around jungle vegetation. At the same time it is usual to see alligators, wild ostrich and some carpinchos (biggest rodent in the world).
For further information about Golden Dorado Destination, please Contact Us!
This is not only a fishing trip… it is also a nature trip into an area of particular beauty far from the rest of the world!