Argentina is home to one of the most appreciated fly fishing centers in the world. In this note will see the advantages of fly fishing in Bariloche.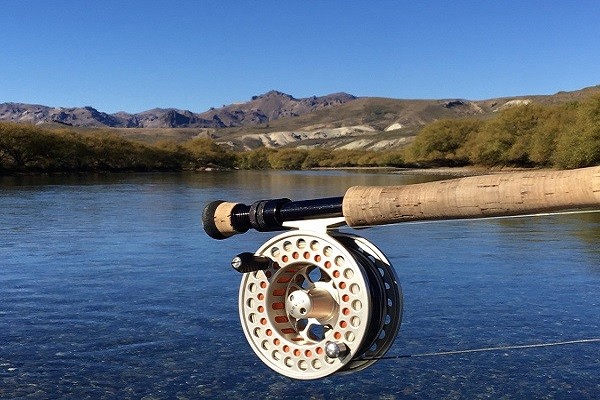 During the last years, Bariloche has established itself as a world tourist center. Many tourists from all over the world come in winter, attracted by its ski resorts and its first class hotels. The magical city of Bariloche, was built around Lake Nahuel Huapi, it has a view that transmits calm and natural beauty. In Bariloche, the strength of the Andes mountains and the beauty of the Patagonian rivers are combined. But this southern outback really shows its complete beauty when the snow melts and the colors of summer emerge. At this time the fish abound in the melting rivers and are a fascinating invitation to the sport of fly fishing.
At Outfitters Patagonia we know every corner of the wonderful Patagonian rivers and we learned which are the best places for fly fishing. That is why we will teach you in detail the tricks of this ancient art and the adaptations that you need to know in these waters.
Fly Fishing on Limay River
In Limay River large Brown trouts from 4 pounds to 14 pounds range can be found and large Rainbow trouts from 16 to 20 inches. The fishing season in the Patagonian region, begins on November 1 and ends on April 30. The Limay River offers different possibilities for novice or advanced fishermen, it is an excellent option for dry fly fishing from November to March.
Best Fishing Tips on Limay River - Patagonia Argentina
Return Fishing modality is mandatory. The cycle of reproduction cycle of trout in Patagonia is completely natural, it is one of the ways to preserve them
You must always fish with a lure and you cannot use live bait such as worms or shrimp.
The accepted methods are: spinning (spoon), fly casting (fly) and trolling (trawling in which different lures are used).
The used of lures that have treble hooks, spinels or nets are forbidden.
If you are interested in fishing and you do not have the necessary equipment on your trip, I recommend the fly fishing or spinning day tour in the Limay River, where you have a transfer from your hotel, all the necessary equipment (waders, shoes, rods, reels, lines, flies or lures, etc.), together with a guide who will advise you at all times and at the end will prepare a delicious lunch in the middle of nature.