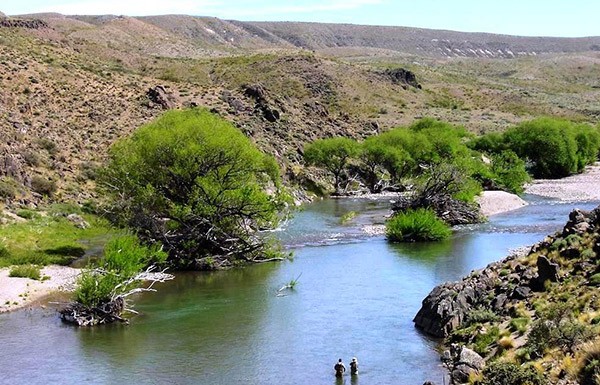 The Fish and Location: The river is located 60 minutes driving East of San Carlos de Bariloche. The Pichileufu is teaming with brown and rainbow trout in the 6-17 inch range with consistent response.
The River: In the Mapuche language, Pichi-leufu means "small stream", the perfect description for this river. This is an outstanding river where the number and quality of its rainbow trout will be a pleasant surprise for you. It is a spring fed river that runs for almost 85 miles to finally enter in the Piedra del Aguila Reservoir. The remote location has helped preserve the river and the only activity you may see may be the gauchos passing through with cattle or sheep.
It has an endless succession of pools, riffles, cut banks and flat waters. This stream is easily waded while fly fishing. It doesn't matter if you prefer dry flies or nymphs, both work extremely well on the river and you can easily catch 15 or 30 fish in a day! If you love lightweight fishing… definitely this is your spot. We recommend a 3 or 4 weight line!