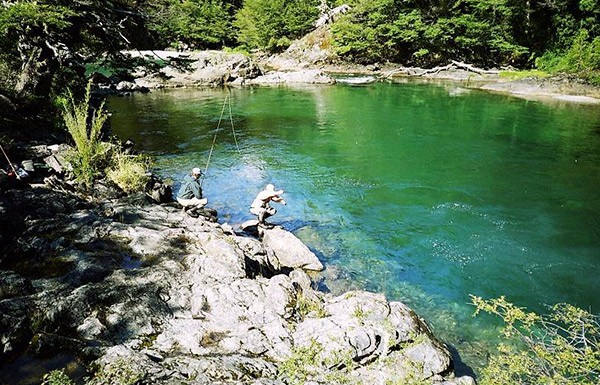 The Fish and Location: This river is located into the heart of Nahuel Huapi National Park. About 35 miles away from Bariloche town. The fish we have chance to catch Rainbow, Brown and Brooks, normally 1 to 3 Pounds with some specimens doubling that figure.
The River: Is one of the most important water flows of the region that we wade or float. Its peculiarity is that, after being born on the Eastern slopes of the Andes Mountains, it turns west, crosses it and finally empties its water into the Pacific Ocean. Flowing through a variety of lakes, waterfalls and rapids, Manso River is one of the most scenic rivers in Patagonia. It features a wide variety of fishing conditions that will suit preferences of all shorts.
Fishing structure: undercut banks, meandering channels, overhanging trees, rock formations, rapids, slick dry-fly selective-trout water, foam feeding lines, fallen trees, riffles and classic pools. The variety is wide and interesting in the middle of the Patagonian forest where wildlife is profuse.
Fishing the Manso River is a bit of an adventure in many ways, it's a collection of different experiences, and it's great for fly-fishing beginners as well as for those demanding seasoned anglers.