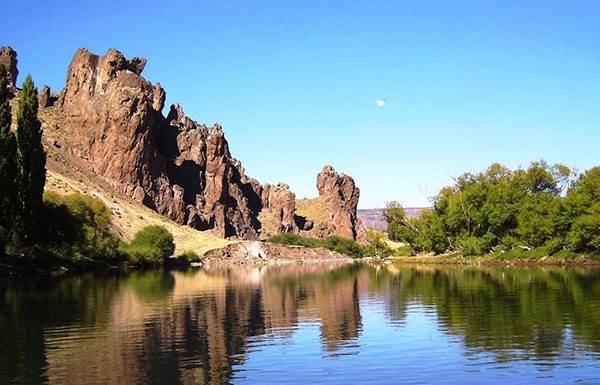 The Fish and Location: Only 30 minutes from Junin de los Andes town Malleo River is just the paradise for dry-fly fishing and light tackle. The browns and rainbows average are from 1 to 3 pounds, although an occasional 5 pound brown can be catch!.
The River: Smaller than most of the rivers of the area this mid-size freestone river forms out of Tromen Lake at the base of the Lanín Volcano and flows for 32 miles before joining the Aluminé River. Is best known for offering dry fly fishing and match the hatch scenarios but the diversity of the river can lend it self to nymphing and even streamer fishing if the wind is up. The wading is relatively easy and dirt roads that run along the river allow you to move between the most productive stretches with ease. The Malleo can be broken down into three very different sections, with spring creek water on the upper river, canyon fishing on the mid-section, and classic riffle-and-run fishing on the lower region.
The river is well known throughout the region for spectacular caddis and mayfly hatches, making this river a haven for dry fly enthusiast and offer the fly fisherman sight-fishing opportunities along its 32 miles. It is like fishing in a textbook, the classic way. The Malleo is considered by many to be the best dry fly river in the region!