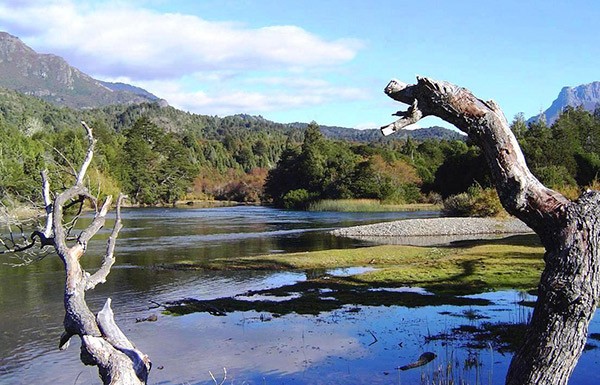 The Fish and Location: It is born at the base of the Lanín Volcano on the Huechulafquen lake, where you can find the famous spot known as "la Boca". Where Argentina's record brown trout of 25.5 pounds was caught. Average fish run 16 to 18 inches, while 21 to 24 inches are often taken.
The River: It's probably one of the most famous rivers, not only in the area but also in Patagonia. The reason is simple, its beauty and its fishing quality. These medium waters run for almost 30 miles through private estancias, public lands and the town of Junin de los Andes, to join the Collón Cura River.
"La Boca" is well known for huge brown trout coming from the lake during most of the fishing season. The upper section is where the river becomes narrow with big boulders and some white waters. Our favorite…the lower section, a couple of miles after Junín de los Andes town with side channels, islands, shallow and wide riffles followed by deep runs, cut-banks and back-eddies provide a unique habitat for trout and fun structure for the anglers enjoy every cast! It is a special section for dry flies. In this lower section, the Chimehuin slows and you can wade or float in this large, gentle-flowing segment of the river. Our 2 days float trip in the lower section requires an over night camp, were we will provide all of the necessary equipment!