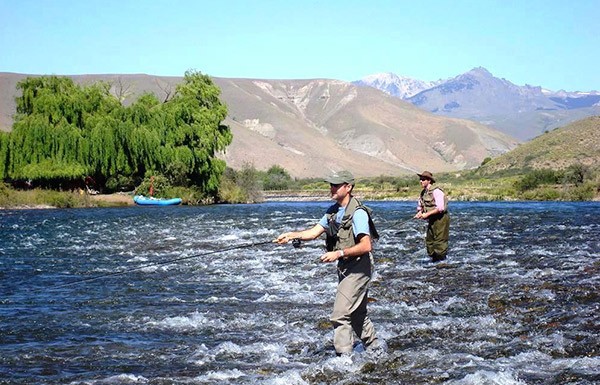 The Fish and Location: Located 55 miles north from San Carlos de Bariloche this river born in the union of the rivers Filo Hua-Hum and Melliquina. It flows along 60 miles until it reaches the Collon Cura River and the Alicura Reservoir. The rainbows average is from 1 to 3 pounds and browns around 4 pounds, although an occasional 6 pound brown pull-up the day average.
The River: This is a medium-sized tributary of the Collon Cura River. It is a great early and late season river due to the proximity to the reservoir. The landscape changes from the forest in the west to the real desert in the east. The only way to fish it is going on a 3 or 4 day float trip expedition and it can be floated up until the end of January approximately, because the level of water decreases too much to be able to float it afterwards. It is far away from any access or roads and floating it makes us feel we are in a truly virgin place.
The Caleufu is a freestone river mainly fished from rafts, dark streamers are most effective with "across and strip" fly fishing technique, but a big dry fly is a temptation that many fish just can't resist. The lower section divides its main stream in many branches, the boulders are inexistent, and it is pretty easy to wade!
There is a very good population of brown and rainbow, sizes are quite varied but 2 pound wild rainbows in perfect conditions entertain us all day long, but… be ready to catch browns up to 5 pounds!