For lovers of fly fishing, Bariloche in Argentina is a destiny where you can find large size trouts. In this note we are going to talk about sport fishing techniques and much more...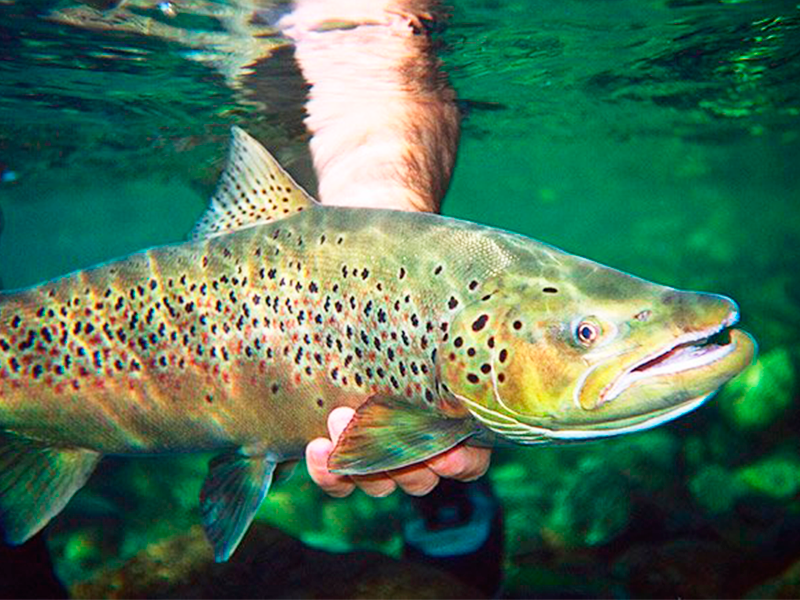 Sport fishing and Bariloche trout fishing has mandatory techniques designed to protect fish. For example, you should always fish with a lure and you cannot use live bait. The accepted methods are: spinning (spoon), fly casting (fly) and trolling (trawling in which different lures are used). All modalities can be done from the coast, by boat or motor boat.
Fly fishing in Bariloche is particularly good in Limay River, where the captured pieces are larger and a superior fishing quality is obtained. For this reason, a permit is required to fish there. Fishing control is done in different ways. One, is by setting limits on fishing techniques and the other way is through closures. At a time when fish are breeding and much more exposed, It is not alowed to fish, to make sure there are fish for next year and protect the specie from extinction.
There are areas where only "compulsory capture and release" is allowed. That is, the person takes the fish out, at most a photo can be taken, but then he has to return it to the water unless he is badly injured. This regulation applies, for example, in a sector of the Limay river until the confluence with the Traful river, which is within the jurisdiction of National Parks. In the first part of the Limay river you can fish with spinning but the fly is recommended because it has only one hook and it does not hurt trout so much that they must be returned to the water. And to fish in this area, nothing better than to choose the regional flies that imitate the live insects with which salmon and trout normally feed.
Fly fishing in Bariloche is a very good experience for lovers of this sport.
For more information about Bariloche trout fishing, please complete the form below or contact us at:
Whatsapp: (+54 9 294) 455 - 0702
Phone: +1 (214) 377 - 1372
Mail: martin@outfitterspatagonia.com