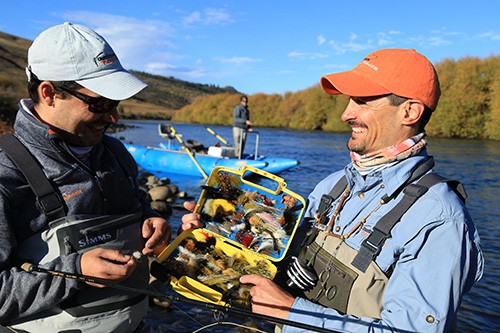 During our Bariloche fishing trips we can offer daily floating adventures with the highest quality service you can get and no matter if you are looking for remote areas or desert reservoirs, you will find trophy fish.
Our location inside The Nahuel Hupi National Park holds literally hundreds of miles of amazing rivers. Honestly, we live on the most extraordinary river system and fishing area in north Patagonia Argentina. Just make a cast in our pristine trout waters, in quiet solitude and certainly you'll have a great Bariloche fishing experience.
Obviously, reaching the best fishing spots is not an easy task. Many of these places are not know, and one can only have access to them by boat and with the help of professional guides and even camp in the wilderness.
Here is where the knowledge and exclusive access we have justify our service in order to achieve the best experience in your fishing trip. Besides, it is important to know not only which river and area are the best for fishing but also when the best time of the season is. Some rivers are excellent, but only with high water flow, while others are better for fishing with low water level. For this and many other reasons, hiring a professional guide is the best and wisest decision!